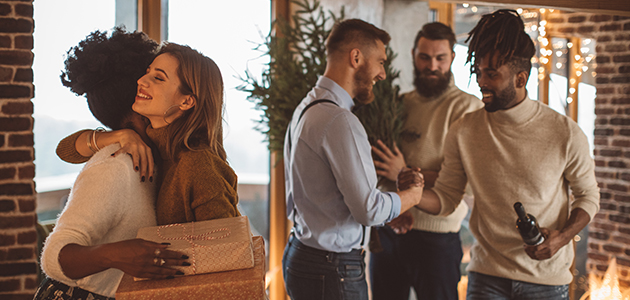 After weeks of festive meals, hosting holiday company, traveling to see friends and family, giving and receiving gifts, and all the bright sparkle of the holiday season, January can seem a little bland and empty by contrast. Post-holiday letdown can leave you feeling somewhat blue as you struggle to get used the return of the non-holiday season.
If you have the odd day where you feel a little bit off, that's perfectly normal as you ease back into your regular January routine. But if you notice that you feel particularly moody, depressed, and lacking energy for longer than a few days, or if you're finding it hard to do the things you normally enjoy, you should schedule a visit with your doctor just to be on the safe side. For some people, the change in seasons triggers a very real type of depression called Seasonal Affective Disorder (SAD), and there are effective treatments available to help you deal with it.
But if you're just missing the busyness, color, and companionship of the holiday season, we have some suggestions to help you combat that post-holiday letdown and embrace January with joy!
Keep entertaining. There's no reason you have to stop inviting friends and family over for cocktails and snacks, dessert and coffee, or even a full meal just because the holidays are over! Create your own mid-winter holiday to celebrate with friends and family.
Host a re-gifting party. We've all received gifts that we either don't need or want—it happens. Instead of stuffing them in the back of a closet to collect dust, why don't get together with friends and family members to swap these thoughtfully given, but unwanted gifts? It's a practical and environmentally friendly way to have some January fun! To ensure that there are no hard feelings, plan wisely. If you know family members will be hurt or offended to see gifts they gave you being given away, host the event with friends instead. Visit We Hate to Waste for tips on how to host a fabulous re-gifting party.
Play the night away. Host a scavenger hunt, murder mystery night, casino night or game night. Consider making it a monthly event if having something fun to look forward to helps you and your friends make it through the colder, dark days of winter.
Sharpen and share your culinary skills. Host a wine and cheese party where everyone brings one bottle of wine and a cheese that pairs well with it, a potluck dinner, a recipe swap, or a post-holiday cookie exchange. Having your guests participate in the meal or the food event itself is a great way to exchange cultural food traditions and to learn more about new-to-you products and recipes.
Volunteer with Foresters. Volunteering has some surprising health benefits, including combatting depression and helping you to forget about your troubles—including being a bit blue after the holidays. Foresters helps members give back to their own communities through meaningful volunteer opportunities. To find out about volunteer opportunities near you, or for information on how to organization a charitable activity with the help of Foresters Community Grants, visit MyForesters.com.
Focus on learning. With no more holiday obligations filing your calendar, you now have time to focus on you.
January feels like a blank slate month, so try to embrace the extra time you have now that the holidays are over by choosing fun activities that will help keep you feeling warm and cheered all winter long.
417943E CAN/US 01/20