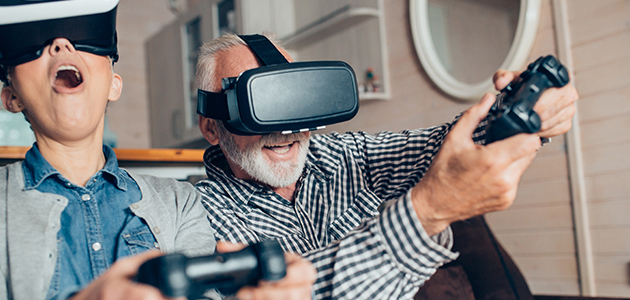 If you have children or grandchildren of a certain age, you may feel you've lost them to the lure of digital devices and online games. It can be hard to understand what's so captivating about these games when you didn't grow up with anything like them, but learning a bit about what they are and how they work can help you connect with the young people in your life—and help keep them safe online. Every interaction with a child or teenager is important, so if finding out more about what they love helps you "speak their language," it's worth doing a bit of research and learning more.
Community
What you may not realize is that some online games are communal, or "multi-player." Participants in these gaming communities literally "hang out" in virtual forums where they can interact and chat with each other about their love of the game and other common interests. It may be a foreign concept to you, but young people—and even adults—form lasting friendships with people all over the world that they "meet" online in gaming communities.
Safety
Obviously safety and privacy should be top of mind when kids are involved in online gaming. You should also always ensure that your child or grandchild is consuming media that is age-appropriate—particularly as far as language and graphic content are concerned—so make sure you know what your child is playing and viewing online. Read our article on G-rated fun for helpful online resources that can help you make the best possible choices as far as appropriate content is concerned, and check out Webwise for invaluable information on age-appropriate online gaming.
Webwise recommends the following precautions when children are playing online games1:
Check the age range of the games to ensure they are considered age appropriate for your child
Make sure your child knows not to share personal details online or in their online profiles, and have a frank discussion with teens about the dangers of sharing personal information online
Make sure your child knows how to report and block other players who engage in online harassment or bullying, or any unsuitable behavior
Encourage your child to come to you if they have any concerns about anything happening in their online gaming community
Most games are free to download and play, but offer additional functions that users can purchase. To avoid having your child inadvertently run up bills, set a password on your phone or device for in-app purchases that only you have access to, or switch off in-app purchases altogether on the phone or device the child is using. You can usually do this within the app/mobile setting
Popular games
For more information on four of the most popular online games that kids and teens are playing right now, including what they are and how they're played, as well as what parents should be aware of, click the links below.
Fortnite: what is it?
Roblox: one site for virtual exploration
Overwatch: multiplayer accessible fun
Star Wars Battlefront II: authentic Star Wars online
When played responsibly and safely, online games can be fun for kids and teens. But as a parent or grandparent, there are still times when you'd like those kids to unplug and connect with you and the rest of the family face-to-face.
SOURCES
1 https://www.webwise.ie/parents/play-it-safe-an-introductory-guide-to-online-gaming-for-parents/ 
417028D CAN/US (06/19)