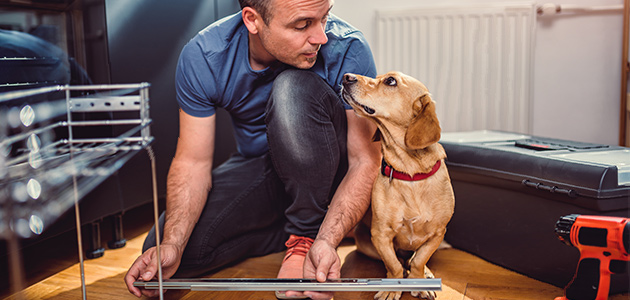 There's always something to fix or organize around the house, and those jobs can be time consuming and often costly. Clever tips and tricks that can make those chores go faster, keep you organized and even save you a little money are priceless. We've complied a dozen handy hints to help you make quick – and cheap – work of your home repairs.
Save your caulk. To keep partially used tubes of caulk from drying out and being wasted, drill a 5/16-inch hole into a synthetic wine cork, about 1 inch deep. The cork will pop onto the nozzle of the caulk tube and make an airtight seal.1
Keep your phone clean. If you're working in the garden or doing another dirty or messy chore but still want to have your smartphone with you, pop it into a small zip-top baggie. You still can push the buttons through the bag, so your phone will stay clean even if you have to answer a text!
Find your flashlight in a flash. If your home is prone to power outages, wrap your flashlights in glow-in-the-dark tape so you can always find it in the dark. The tape glows for about 8 hours after exposure to light.2
Stripped screw rescue. If you're trying to remove a screw whose head has been stripped, try putting a rubber band between the screw and your screwdriver. The extra grip should help get it turning again.
Polish those holes. If you have a small hole in a screen door or window, use clear nail polish to invisibly glue it back together.
Smile for the camera. Before unhooking your computer, television, gaming system – or anything complicated by dozens of wires – snap a photo of the set-up so that you can easily plug everything back in correctly after.
Banish water stains. Spray water damaged ceilings with a mixture of bleach and water (10% bleach) and wait a couple of days. An old stain may require store-bought mold and mildew remover. In many cases, the stain will disappear, saving you the hassle of repainting. Make sure to wear safety goggles and protect walls and floors with plastic. Bonus: it works on flat and textured ceilings!3
Silence the squeak. For a temporary fix to an annoying problem, sprinkle talcum powder over the noisy spot in your hardwood floor and sweep it into the cracks.4
Plump up your down. If you have down-filled cushions that are flat, set them out in the sun for a few hours, flipping halfway through. The sun will help evaporate any moisture that has accumulated in the pillows over time, plumping them up nicely. Make sure not to leave them in the sun for too long though, because it can fade the fabric.5
Add some spice to your fridge. Put strong mini-magnets on the inside of empty spice tins, then stick them on your fridge where they can hold pens, pencils, kitchen twine and other everyday essentials.
Make a DIY knife block. Repurpose some cool, vintage books (old cookbooks are great) by standing them upright and tying them together with twine. Once they're securely fastened together, you can slide your large knives down between the pages for storage. Just make sure to always dry the knives thoroughly before putting them away.
Unstick your drawers. If you have stubborn drawers that don't open smoothly, remove them and rub an old candle along all the surfaces on the bottom of the drawer that touch the dresser. Do the same for the dresser and your drawers will slide open easily again.
416655A CAN/US (09/18)
SOURCES
1, 2 https://www.familyhandyman.com/diy-advice/45-hugely-helpful-handy-hints/view-all/
3 https://www.familyhandyman.com/smart-homeowner/diy-home-improvement/10-minute-house-repair-and-home-maintenance-tips/view-all/
4, 5 https://www.realsimple.com/home-organizing/home-improvement/maintenance-repairs/12-quick-home-repairs#fixing-unfurled-wallpaper