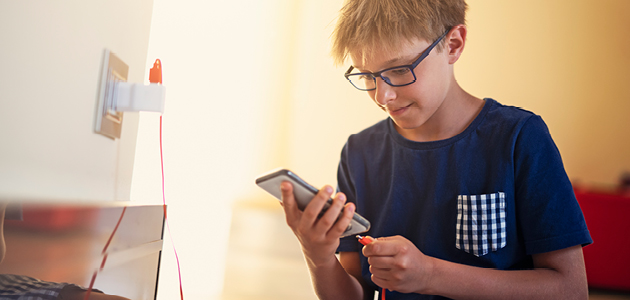 Spring showers may bring flowers, but they can also bring storms that leave you in the dark. This list of tips can help you be prepared and stay safe if you find yourself without power.
Use flashlights and battery-operated lanterns. Candles shed light, but they are also a fire hazard. Always keep a stash of fresh batteries on hand to power your battery-operated light sources.
Keep your devices charged. If you know a storm is coming, plug in everything that requires a charge, particularly phones so you're always able to call for emergency services if you need them. However, be cautious about keeping devices plugged in during a storm, since lightning strikes can create power surges that can damage equipment.
Keep the fridge and freezer closed. If you do lose power, only open your refrigerator and freezer if absolutely necessary. Each time you do, you're letting out the stored cold air, and reducing the time your food will stay safe.
Know your food safety rules. Generally food in your refrigerator will stay safe for four hours without power. Food in a freezer will be fine for 24-48 hours, depending upon how full the freezer is. Never guess or assume that food is safe, though. Refer to these charts to determine what you should keep and what should be tossed.
Stock your pantry with non-perishable food and water. Make sure to keep at least one gallon of water per person per day on hand. Ideally, you should have a two-week supply of water stored for emergencies, but if you don't have enough room for that much, store as much as you can. Likewise, stock your pantry with a good supply of non-perishable food items so you can eat without having to open your fridge or freezer, and so that you have nourishment if your perishable foods do spoil. These recipes use shelf-stable food and require no electricity to make.
Check your prescriptions. Always make sure you have a good supply of any prescription medications you or your family members are currently taking. Don't let your prescriptions get too low before reordering.
Put together an emergency kit. Keep an emergency kit in your home that includes basic items that you and your family would need for several days. This list has suggestions for what to include, and offers advice on storing and maintaining your kit.
Check your first aid kit. Every home should have a first aid kit that's regularly topped up with new supplies as needed. Check to make sure yours is complete and well stocked. If you don't already have one, use this list to put one together.
Keep your generator and BBQ outside. Never use either of these in enclosed spaces—including a garage—because they emit dangerous levels of carbon monoxide.
Hopefully you won't find yourself in the dark this spring, but if it happens, you and your family will be safe and prepared.
420440 CAN/US (03/22)