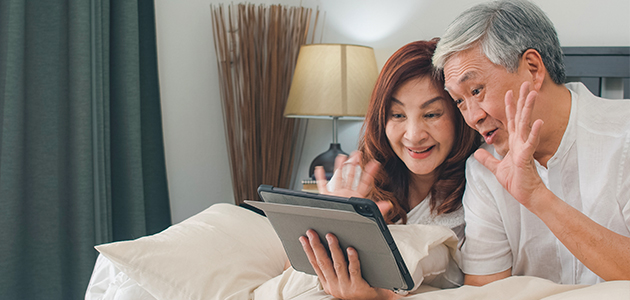 Sheltering in place or being forced into isolation due to illness can be extremely challenging. Humans are social animals, which means we are wired for community connection. So, when circumstances make it impossible for us to see and be near others—particularly friends and family members—it can take its toll on our mental health.
The following suggestions may help you pass the time in a way that helps promote a healthier mindset:
Shift your focus. Part of the reason why being in quarantine is difficult is because we tend to focus on negative things when we have too much time on our hands. As much as possible, shift your focus to positive things when you find yourself spiraling. Think about things you're grateful for, plan reunions and events for when it's safe to do so, write, sing, dance or make some art; get lost in a good book; meditate; or pray.
Pick up the phone. It's not the same as getting a hug and seeing the smile on the face of a loved one, but talking to friends and family members is a good way to make them a daily part of your life. It also allows you to ask for emotional support, and to give it, when needed. This is a great time to catch up with friends you haven't talked to in a while, or relatives you don't often see.
Use technology to connect. People who work remotely have been using conference calls and video conferencing for years—and now you can too! There's a proliferation of apps like Zoom, HouseParty and Marco Polo that allow group video chats between multiple users—so you can actually get together, virtually of course, with several friends at the same time and sit down for a group chat and a much-needed laugh. It's amazing what a difference being able to "see" your friends can make.
Stick to a routine. We are creatures of habit, and messing with routine is a surefire way to make everything feel even more out of control. Try to stick to a regular bedtime, get up at the same time you normally do, eat three healthy meals at the proper time, get some exercise (even if it's dancing around the living room), and get cleaned up and dressed every day. And stick with your daily chores too—they're a productive way to help you pass the time, and a clean space will give you a sense of satisfaction.
Be aware of what news you're consuming—and how much. It's important to stay informed, but taking in too much can ramp up anxiety. Make sure to check only credible sources including the CDC and your local and federal government websites, and try not to click on every single article that is shared on social media. Often those are filled with opinions, not fact, and false claims.
Write letters. Texts and emails are important too—any way to reach out and connect with others is critical. But picking up a pen and writing a letter is a very intentional, almost meditative process. It will also take longer than shooting off a quick text, which means your mind will be occupied by a pleasurable experience for a longer amount of time. If you can't safely get out to mail your letter, hold onto it until you're able.
Journal. Journaling allows you to prioritize your problems, fears and concerns, and to track your symptoms so you can see what things trigger you and learn how to control them.
Most importantly, try to remember that as unpleasant and as scary as this all is, it really is just temporary. Things will return to normal over time, and we will be able to hug our loved ones again.
For more information about why you may be feeling so down, and how to help manage those feelings, read Harvard Business Review's article, "That discomfort you're feeling is grief," and visit the Anxiety and Depression Association of America.
417951C CAN/US 05/20