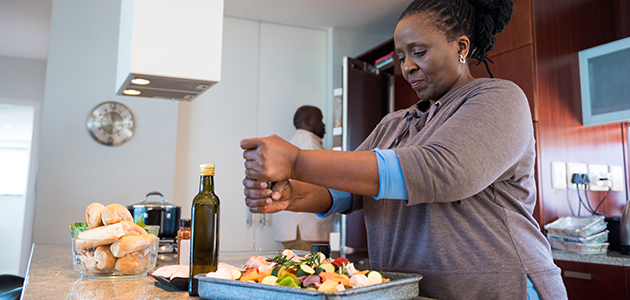 When someone has diabetes, their body either can't produce insulin or can't properly use the insulin it's able to produce. Treatment plans depend upon the type and severity of the disease, but a healthy, restricted diet is an important part of any plan.
It's important to note that there isn't a universal diabetes diet, portion sizes are different for everyone and you should always consult your doctor or a registered dietician about the meal plan that's right for you.
Quick facts1
With Type 1 diabetes, the body doesn't produce insulin, so patients require insulin therapy and other treatments to manage their health. Living a healthy lifestyle by getting regular exercise and eating a proper diet is also an important part of any Type 1 diabetes treatment plan.
Type 2 diabetes is the most common form of the disease. It means body doesn't produce or use the insulin it does produce well. Some people can control Type 2 diabetes with healthy eating and exercise, while others may also need medication or insulin to manage it.
What can I eat?
One of the best ways to maintain a healthy diet is to figure out what keeps you satisfied and feeling full. Food is an important part of our lives and our cultures, so finding healthy foods that work for you is a good way to continue enjoying your meals and sticking to the diet that helps to keep your diabetes in check.
Tips for managing your food
Staying organized might help you better manage your food intake, and it will also help you determine if any of the foods you're eating are impacting your blood sugar more than they should be, so try using a weekly meal planner.
Your meal plan should include regular, balanced meals that take your goals, tastes, lifestyle and medications into account while providing you with the nutrition you need to maintain good health and keep your blood sugar in its target range.
Once again, it's important to work with your doctor or dietician to determine how many carbs you can eat and what your portion sizes should be.
The Centers for Disease Control and Prevention (CDC) has some helpful information on meal planning that may be helpful.
Think ahead
In addition to planning your meals, prepping what you can in advance can make it easier to stick with your diet because you won't be rushed and reaching for a quick, easy meal or snack that might not be the best choice.
Keep healthy snacks like hardboiled eggs, plain yogurt and berries, almonds, veggies and hummus, sliced apples with peanut butter, and air-popped popcorn prepped and ready so you always have a grab-and-go option.
When planning your meals, think about options that can be prepped the night before, early in the morning or whenever your schedule leaves you with a bit of spare time. Chop your veggies, measure out herbs and spices, gather all shelf-stable ingredients and put them on your counter – or make an entire meal in advance and pop it in the fridge or freezer. There's nothing like pulling a healthy, pre-made meal out of the freezer at the end of a busy day.
For more information on how to eat well and stay healthy while living with diabetes, visit the American Diabetes Association.
Foresters Financial and its employees, agents and life insurance representatives do not provide, on Foresters behalf, legal, estate, health, medical or tax advice. Consult your physician or licensed healthcare professional for any questions or information about your medical care.
SOURCES
1 https://www.diabetes.org/diabetes
417962C CAN/US 11/20