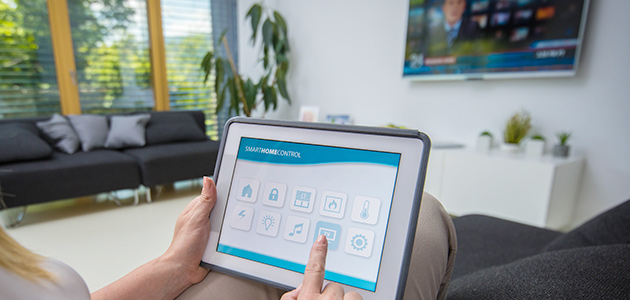 Aging in the comfort of the home you know and love is a goal many strive to achieve. There are challenges to overcome, and adjustments often need to be made as time passes, but being open to new technology is a great way to help make that goal a reality.
It can be tempting to reject new ideas and to resent needing additional support when we have always been independent, but every little bit of extra help enables you to be safer and comfortable in the home you love.
Consider these devices and tools as you look to the future:
Safety
Motion sensor lights. Outside the home, motion sensor lights are good for security and for lighting up walkways and stairs. Consider using them inside your house too. They are great on stairs, in hallways and in closets and cupboards. Being able to see tripping hazards when you're walking through your home at night is invaluable. Visit your local hardware store for advice on the right kind of motion sensor lights
Front door cameras. If you want to be able to see who is ringing your doorbell without opening the door, a front door camera is a great option. You can even get fake security cameras to give the impression that you're monitoring the door if you choose, but the real thing is a good way to add an additional level of security. Once again, visit your local hardware store for advice, and check out this article from Safety.com.
Home security system. Nothing is failsafe, but evidence that you have a security system installed in your home is a great way to deter intruders. Check out Safewise for their list of the ten best home security systems.
Smoke alarms and carbon monoxide alarms. Everyone should have these installed on every floor in their home to detect the presence of smoke and the odorless, colorless and very deadly gas known as carbon monoxide.
Personal health
Medical devices. Chat with your doctor about what kind of home monitoring makes sense for you. If you have a history of high blood pressure, purchasing a home blood pressure monitor is a good way to ensure that your condition is stable. People with diabetes should track their blood glucose levels regularly using a blood glucose monitor. Being proactive about monitoring chronic health conditions means you can report any troubling findings to your doctor right away.
Activity trackers. Wearable devices like Fitbit activity trackers are a good way to motivate you to keep you moving, which is important as we age since regular physical activity has a host of benefits for both mind and body.
Wearable alert systems. Usually worn around the neck, wearable alert systems like the Philips Lifeline in Canada and the United States are emergency alert devices that allow you to press a button if you need medical help and cannot get to a phone. Some of these devices also have a fall detection feature that automatically alerts an emergency response team if you have fallen.
Automated medical dispensing services. Taking good care of your health – including taking all of your prescribed medication every day at the correct time – is one of the best ways to ensure that you can continue to live independently. Automated medical dispensing services are pre-loaded with all of your medications (this can be done by yourself or a caregiver), and remind you when it's time to take your next pills. It's one less thing for you and your loved ones to think about. Check out Top5Reviews for their list of the five best automatic pill dispensers, or check with your doctor or pharmacist for their suggestions.
Stair lifts. Stairs can become a dangerous challenge for those with mobility issues. Stair lifts allow you to move up and down between floors more safely, reducing the risk of falls. Visit Consumer Affairs for their list of the best stair lift companies.
There are many options to explore, but each one can help you live more securely, safely and comfortably, giving you and your loved ones additional peace of mind as you continue to embrace your independence.
416156D CAN/US (04/18)