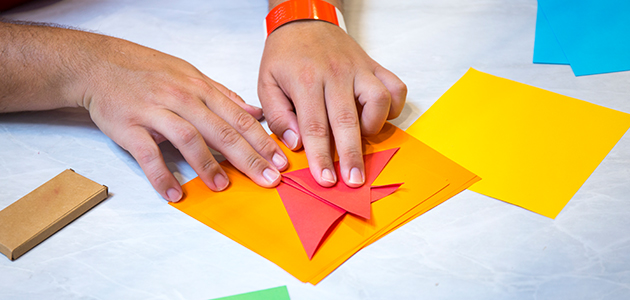 Being creative is more than just good fun—it can actually be good for you. Studies have shown that creativity can elevate your mood, alleviate anxiety, boost your brain function, help prevent degenerative diseases, support a healthy blood pressure, and increase immune health.1 So why not take any chance you can to engage in a creative pursuit—like perhaps some paper-folding fun!
November 11 is Origami Day, which makes it the ideal day to explore this fascinating paper art that originated in ancient Japan. At that time, handmade paper was a luxury item only available to a few, so paper folding was strictly for ceremonial purposes, often religious in nature.2 By the 1600s, it had become recreational as well as ceremonial, and was starting to be recognized a new art form.
Today origami is a popular hobby practiced all over the world. It's an affordable pastime, because all you need is paper and patience; and with a variety of patterns available for all ages and skill levels, almost anyone can turn a square of paper into a bird, fish, flower, decorative box or tree.
Get started!
All you need to begin is a piece of paper. Hobby stores sell special origami paper, usually printed with bright, bold patterns; but scrap paper, newsprint, old wrapping paper, and even plain white printer paper are all perfectly fine alternatives. Origami paper tends to be relatively thin for easier folding, so ideally look for paper that isn't too thick. But if construction paper is all you have, give it a go!
Visit the following links for gorgeous origami instructions for everything from cats to Samurai helmets!
Honor our heroes
November 11 is also Remembrance Day, celebrated in Canada and the United Kingdom, and Veteran's Day in the United States. To celebrate and honor those who fought and those who died, use your newfound paper-folding skills to make poppies and stars to give to friends and family members, and to decorate your home or office.
The poppy is the official symbol of Remembrance Day, and people are encouraged to wear a poppy on the left lapel, or as near to the heart as possible. Watch this video to find out how to make paper poppies, and share them with loved ones in remembrance of those who made the ultimate sacrifice.
To honor American veterans, try your hand at one of these beautiful origami star patterns. Or if you're feeling ambitious—and have lots of helpers who can fold and assemble—check out this amazing 3D American flag tutorial.
Whatever you decide to make, enjoy the time you've carved out of your busy day to try something creative. As you're folding, be mindful about the process: notice the feel of the paper in your hands, listen to the sound it makes as you fold it, and watch it transform before your eyes. Then congratulate yourself for doing something good for you and beautiful for your little corner of the world.
SOURCES
1 https://relaxtheback.com/blogs/news/health-benefits-of-creativity
2 https://www.pbs.org/independentlens/between-the-folds/history.html
417410D CAN/US (11/19)