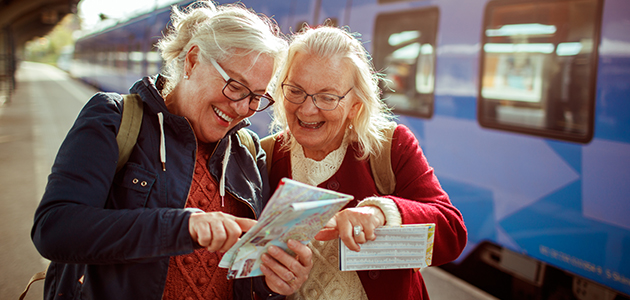 Once a regular mode of travel for vacationers, trains are now more commonly used by commuters and for freight rather than by those heading off on an adventure with friends and family. There are many reasons for the slow decline including the ease and affordability of traveling by car and the proliferation of airports that makes flying an enticing option. But despite the fact that it's no longer as popular as it once was, train travel is still a wonderful way to explore the world around you.
You don't have to book passage on the Orient Express (which will set you back about $30,000 for a suite if you travel between Istanbul and Paris1) to experience the joy of train travel. There are options for most every budget, and that includes very short excursions and even day trips if you want to stay local and do some sightseeing in your own backyard.
For instance, The Agawa Canyon Tour Train, based in Sault Ste Marie, Ontario, takes riders through the Agawa Canyon Park, a beautiful destination known for its impressive fall colors, which is only accessible by rail. The Branson Scenic Railway, the mainline through the Ozarks, offers a Polar Express Christmas train experience to passengers wishing to treat themselves to a magical holiday experience. Or there's the Railway Touring Company that offers day trips by steam engine starting from a number of locations in England and Wales, allowing travelers to enjoy the beauty of the English countryside in a way that's impossible via any other mode of transportation.
In fact, access to beautiful scenery is one of the primary benefits of traveling by train. But it's certainly not the only one. According to USA today,2 train travel is usually cheaper than airfare, better for the environment, more flexible because you can often stop at major destinations and landmarks en route, more comfortable because there's more room than there is on an airplane, and even safer given that train travel hasn't been affected by as many security issues as air travel.
In addition, most train stations are located right in the heart of the city or town you're traveling to, so you don't have to spend a ton of extra money on cabs to get where you're actually starting your vacation. You step off the train and you're already there! Take Union Station in the heart of Toronto, or Grand Central Station in Midtown Manhattan, or King's Cross Station in central London.
Now is the time many people start planning for their spring or summer getaways, so if you're still undecided about where you'd like your next adventure to take you, perhaps you might want to consider a leisurely ride on the rails. Talk to your favorite travel agent, or do some research of your own to determine routes, affordability, and flexibility. In the meantime, for some fascinating been-there-done-that footage of some gorgeous trains and train journeys, check out The Man in Seat Sixty-One.
SOURCES
1 https://www.luxurytrainclub.com/general/grand-suite-venice-simplon-orient-express/
2 https://traveltips.usatoday.com/advantages-train-travel-1728.html
4179434D CAN/US 02/20