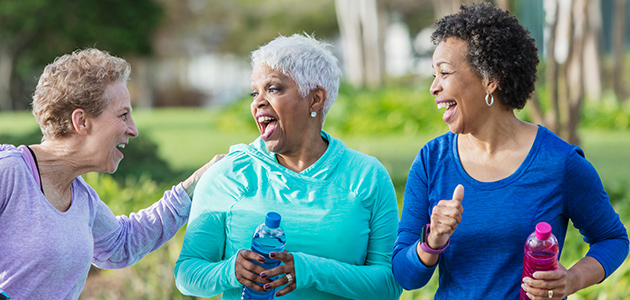 Living a healthy life is something we all strive to achieve, and there are some simple lifestyle adjustments you can make to improve your health no matter how old you are. These include taking precautions during cold and flu season, taking care of your teeth, eating wholesome, healthy foods, managing your stress and anxiety and getting regular exercise.
But there are specific things you should be aware of at different ages and stages in your life.
20s and 30s
Cholesterol screening. This screening should be done annually, particularly if you are at increased risk of heart disease.
Hypertension screening. High blood pressure is often called the silent killer because it's very possible to have it and not know it. Screening early – and regularly for the rest of your life – is a good idea.
Sexually transmitted diseases. Check with your doctor to determine when you should be tested for HIV, gonorrhea and syphilis, especially if you know you are at increased risk for contracting them.
Cervical cancer. Regular pap tests and a swab for HPV for women should start at age 21 and be repeated every 3 years (or every 5 years if you're between the ages of 30 and 65 and get the HPV swab and pap together).1
40s
Diabetes screening. Complications from diabetes are associated with premature death, so being tested at least every three years starting at age 40 is wise. F
Comprehensive eye exam. Even children should have regular eye exams, but it's important for adults to have a thorough screening at age 40, and then be checked every two years after that if there are no issues.
Prostate cancer screening. Like many cancers, early diagnosis can increase the odds of survival. Regular screening is recommended once a man reaches 40.
50s
Colorectal cancer screening. Beginning at age 50, it's recommended that both men and women have thorough colorectal cancer screening tests until age 75.2
Lung cancer screening. Screening for lung cancer is recommended beginning at age 55. In its earliest stages most lung cancers show no symptoms, so screening is critical.3
Breast cancer screening. Women should speak with their doctors about their breast cancer risk in their 20s, 30s and 40s, but it's recommended that women begin having mammograms every two years beginning at age 50.4
60 plus
Vitamin D25 levels. Most people have some level of vitamin D deficiency, so testing is important as we age.5
Bone density testing. Beginning at age 65, it's recommended that women have their bone density tested, because the risk of bone fractures and osteoporosis increases as women age. This testing should be done earlier if there is a history of fractures.6 Men should also consider having this testing done starting at about age 70.7
Abdominal aortic aneurysm. If you have ever smoked, your doctor may suggest being screened for an abdominal aortic aneurysm starting at age 65.8
Hepatitis C. A one-time test for adults born between 1945 and 1965 is recommended. Left untreated, hep C could wear down your immune system, and can lead to cirrhosis or liver cancer.9
Being proactive about your health and advocating for your best interests can help you live a longer, healthier life.
Talk to your doctor about tests, vaccinations and screenings recommended for people in your age group. It's also wise to discuss your family medical history with your primary care physician, as sometimes doctors recommend earlier screening if you have a family history of a specific disease or condition.
SOURCES
1 https://sureceta.com/womens-health-the-medical-screenings-tests-every-woman-should-have/
2, 3, 5, 6 http://makeitbetter.net/better-you/great-health-at-every-age-a-decade-by-decade-guide-to-living-your-healthiest-life/
4 https://sureceta.com/womens-health-the-medical-screenings-tests-every-woman-should-have/
7, 8 https://blog.ohiohealth.com/mens-health-screenings/
9 https://www.prevention.com/health/9-most-important-medical-tests-for-women/slide/6
416156E CAN/US (04/18)