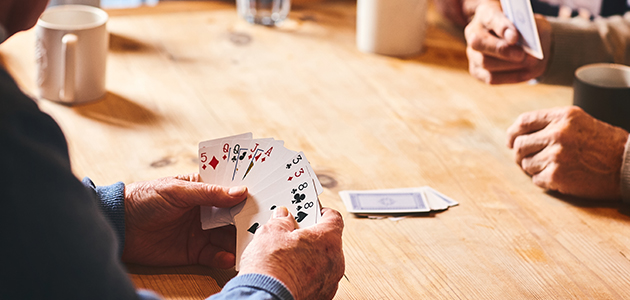 George Bernard Shaw once said, "We don't stop playing because we grow old; we grow old because we stop playing."
Let's face it: adults don't generally get to spend a lot of time being silly and having fun because we're overwhelmed with day-to-day responsibilities and obligations that take up our time and wear us out, both physical and mentally.
But the fact is, play can add so much joy to our lives! It can relieves stress, keeps you connected to those around you, fuels your imagination and creativity, sparks your brain, and can keep you feeling young and vital.1It really is important to make sure that you prioritize your life to allow for lots of opportunities to have soul-restoring fun!
One of the ways you can do that is to plan regular game nights with friends and family. One of the best things about game night is that it's a very casual way to entertain. No one has to be dressed up, and no one is expecting a four-course dinner. Comfy clothes, a few snacks, and a board game or a deck or cards is all you need to have a fantastic evening!
We have some great tips to help you make your game night a tradition that will quickly become a favorite with your family and friends!
Choose wisely. Make sure to invite the right number and mix of people. It's definitely a great way to bring people together, but consider personalities and relationships when you're making your guest list. Game nights consist of just a small group of people, so it's great when you know they will all feel comfortable together.
Set up matters. Board games require a table and enough seats within easy reach of the game pieces. Games like charades and Pictionary require floor space where people can move around. Have everything moved and ready to go so that you don't have to spend any time setting up while your guests are there.
Match your game to your guests. An introvert is going to hate any game that requires them to be the center of attention or to do things that they feel will make them look silly, and games like Trivial Pursuit that test general knowledge can be intimidating for some. Think about the people who will be attending and try to choose games that everyone will enjoy.
Let everyone know what's in store. When you send out your invitations, let your friends know what games you're planning to play, and if the evening includes dinner or simply snacks and beverages. If you know your group is up for pretty much anything, encourage your guests to bring along games they love too.
Ditch the electronics. This is not a hard and fast rule, of course, but games that don't require devices are generally ones that allow people to connect a little easier. Stick with old-fashioned board games and card games, if possible.
Brush up on the rules. Read through the game's rules before your guests arrive so you're as familiar as possible with them. This timesaving tip will allow you to help others learn how to play the game if it's not one that's familiar to them. Visit Considerable for the rules to all your favorite card games, and The Spruce Crafts for rules and strategies for classic board games.
Snack ideas
As far as snacks go, think about what kind of games you'll be playing. Finger foods that aren't messy or too greasy tend to work better than desserts that require spoons or forks if you want to eat while you play, or if your game setup means there's no table space for people to put down bowls or plates. But if you're saving snacks for after the games are finished, anything goes!
Visit Autostraddle for 23 no-mess snacks for game night, or Food Canada for great game night finger foods. But remember, a bowl of chips or a plate of store-bought cookies is also perfectly fine. Game nights don't have to be fancy, after all!
If you've been missing silly, laugh-out-loud fun in your life, consider organizing a game night with some like-minded friends soon. We owe it to ourselves to keep on playing – no matter how old we are.
For more information on the health benefits of play for adults, visit, and for 15 free (or inexpensive) game ideas, check out Monday Crashers.
SOURCES
1 https://www.helpguide.org/articles/mental-health/benefits-of-play-for-adults.htm
416896 D CAN/US (02/19)