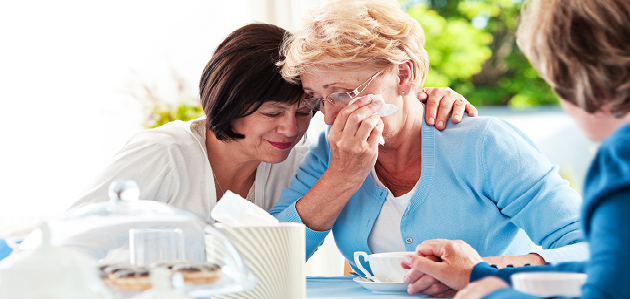 When a personal tragedy or disaster strikes someone we love, our first instinct is to reach out and help lessen their suffering and lighten their burden. So often the first thing we say after "I'm sorry" is, "What can I do to help?" While those words are well meaning and delivered with love and concern, it's not always the best thing to say to someone in a crisis situation. It sounds helpful, but in fact what you're doing is asking someone who may be lost in a fog of grief, despair or fear to help you make a decision.
They may have no idea what they need you to do, or what they want you to do in that moment, or they may be so overwhelmed with whatever is happening around them, they'll simply say no to avoid having to deal with one more thing.
Instead of asking, just do. Do something helpful or thoughtful that will brighten their day, or something practical to free up their time so they can take care of unexpected, pressing concerns.
Grief and fear are exhausting. The next time someone you love is facing a crisis, consider these ways you can help ease their burden:
Arrange for meals. There are few things as comforting as having hot, delicious meals prepared for you while you're coping with a loss or an illness. Consider asking friends and family members to sign up to make and deliver meals to your loved one every day for a specific amount of time. Websites like Meal Train, Sign Up Genius and Meal Baby make it easy to invite people to sign up, and simple for those participating to share the details of the meals they will be providing. A few tips if you're not opting to organize via a website like Meal Train:
Make sure there is a specified drop-off time that works for the family so that their doorbell isn't ringing all day long.
Ask participants to provide a complete meal that simply needs to be reheated. Desserts, beverages and salads are a nice added bonus.
Remind participants to keep food safety in mind and use ice packs to keep cold food cold, or put hot food in insulated bags (but only if it will be out of the oven for less than one hour, otherwise it should be chilled).
Ask participants to include recipes and reheating instructions.
Remind participants about any food allergies as well as meal preferences (especially if there are picky eaters in the house).
Ask participants to send their meals in containers that don't need to be washed and returned and can simply be recycled or thrown out.
Gift cards for restaurants are also great, as long as the restaurants deliver.
If you're looking for home-cooked meal ideas that transport well, check out the kitchn, and for more tips on cooking meals for those in crisis visit Simple Bites.
Take care of errands and arrange for childcare. Those first few days after a loss, surgery or traumatic event can be challenging because life doesn't stop and everyday things still need to be taken care of. Offer to babysit, pick up children from school, ferry kids to activities, do laundry, make calls, buy groceries, pick up cleaning, mow the lawn – anything you can think of that will ease the burden and give your loved one some breathing room.
If you have friends and family who can help, particularly if the situation requires long-term help, you can set up a rotating chore schedule. Websites like Care Calendar are similar to the meal organizing websites, and allow you list the help that's needed and have friends sign up to take on those responsibilities for as long as they're needed.
Drop off thoughtful and practical gifts. Don't ask to come in, just drop and go or have your gifts delivered. If someone is in the hospital, books and other pastimes to help keep the patient busy and distracted are great. If someone is newly bereaved, a journal and a cozy blanket they can curl up with is a meaningful idea. If someone has just received a frightening diagnosis, comfort items like a basket filled with homemade cookies or a cozy pair of socks.
Be aware that not all people turn to religion for comfort when they are in crisis, so unless you know for sure how your friend or family member will react, religious items may be best left until later when you know that they will be well-received.
Keep in touch. Everyone reacts to trauma and grief differently. Your loved one may welcome your company, or they may shut themselves away from the world and cocoon to preserve their mental energy. Don't take this personally – this is about their way of coping, not about how they feel about you. Respect their need for privacy, but let them know that you are still there, and will always be there when they need you.
Send cards, text or email regular messages of support that don't require a response, and pick up the phone and call even if it's just to leave a supportive message. You may not reach them personally, but knowing you are still out there and still thinking of them will be a huge comfort.
When the fog clears and your friend or loved one looks back on the effort you made to make things easier during a difficult time, it will be with more love and gratitude than you can imagine.
415899C CAN/US (01/18)