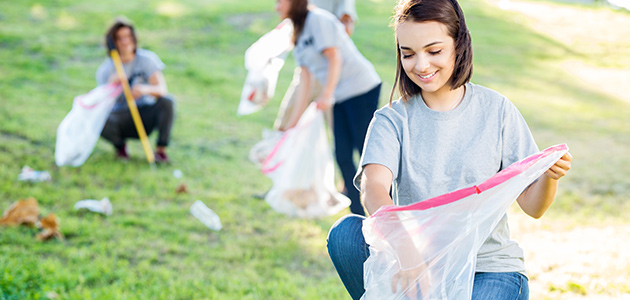 Volunteering is about giving, be it your time, your skills, your experience and wisdom, or your financial help. But something incredible happens when you give; you get so much back in return. In fact studies have shown that volunteering is good for both your mind and body, providing many benefits to both physical and mental health including combating depression, increasing self confidence, providing a sense of purpose and keeping you active.1 Perhaps most importantly though, it just makes you happy.
As parents, all we want is to see our children happy, so encouraging them to become involved in volunteer work, even at a very young age, is one way to help infuse their life with the kind of joy that comes from living a meaningful and purpose-filled existence.
Tips for raising the next generation of volunteers
Set an example. Children watch everything you do. You are their first and most important role model. When you choose to give back to your community by participating in volunteer efforts, you're teaching your children how important it is to make a difference in the lives of others, and how good it feels to give back. Let your kids see you out in the community helping others. Talk to them about what you're doing and why, and make sure they know how it makes you feel when you know you've made a difference in someone else's life by volunteering.
Help them choose a cause. Find out what moves your child, and see if there are volunteer opportunities that match that passion. They are more apt to want to get involved – and to stick with it – if the activity is something they enjoy. For example, if your child is crafty or loves to bake, they could get involved in activities in support of a local Ronald McDonald House, like baking cookies or making no-sew comfort blankets. The mission of Ronald McDonald House Charities® (RMHC), is to provide a home away from home for seriously ill children and their families to heal better together. To date, Foresters members have supported over 30,500 RMHC families by hosting dinners, baking cookies and assembling care packages for these families. For more information on volunteer opportunities with RMCH visit MyForesters.com.
Make it a tradition. Kids love rituals, and they look forward to cherished traditions that are repeated year after year. Tying an opportunity to volunteer in with a family tradition is a great way to make it even more meaningful for your children, and to expose them to new and different volunteer opportunities. Make volunteering part of your holiday traditions all through the year by working at a soup kitchen each Thanksgiving, cleaning up your neighborhood park on Earth Day, making Valentine's Day cards for seniors at a local nursing home, creating Boo Kits for new neighbors at Halloween, or putting together a Christmas hamper for a needy family.
Recognize their hard work. Children need positive reinforcement, so make sure to praise them for the work they've done and talk about all the ways their volunteer efforts may have helped those around them – especially if the benefits aren't immediately obvious. In some cases they may not get praise or recognition from the recipients of their good deeds. Older children and adults understand this and know that the work is still important and appreciated, but younger children may not.
Be an enabler. Your child may need your help to participate in volunteer work. Perhaps they need to be driven to a location, or they need parental supervision, or they need to use your house to host an event. Do what you can to make volunteering possible.
Get them involved in the planning. Foresters Community Grants allow members to plan local activities for their families and other Foresters members, creating exciting volunteer opportunities – like a Foresters Care Package activity. Foresters can provide you with up to $2,500 in funding, as well as tools and resources to help ensure that your care kit event is successful. You and your family members might put together hygiene kits for a local homeless shelter, or comfort kits for children in crisis, for example. Having your children involved in all stages of the planning will help them feel fully engaged and invested in the work – and extra proud when the activity is completed.
Teaching your children how important it is to focus on giving back is a lesson that will serve them for the rest of their lives as they carry on the giving tradition for years to come.
Visit Foresters.com to find out more about opportunities for you and your children to get involved right in your own community.
SOURCES
1 https://www.helpguide.org/articles/healthy-living/volunteering-and-its-surprising-benefits.htm
416407C CAN/US (08/18)