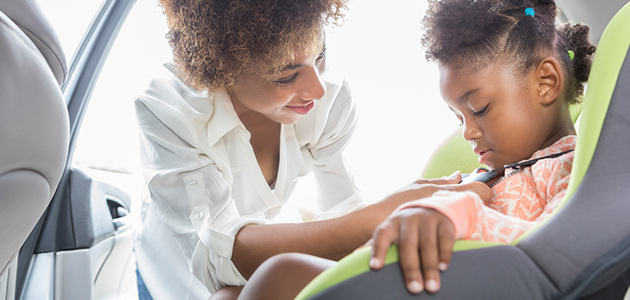 Summer is the perfect time to hit the road for fun family car trips. Whether you're visiting family a few hours away or traveling from one end of the country to the other, doing a little extra prep work can help make your trip a safer and more enjoyable one.
Make sure your car is road worthy. Mobil recommends that you check the following things on your car before hitting the road:
engine oil
transmission and differential fluids
hoses
belts
engine coolant
tire pressure and tread
brake systems
battery
windshield wiper fluid
Remember, it's much easier to have your car checked by your local mechanic before you leave than it is to try to find a reputable service station when you're in a strange town – or out in the middle of nowhere.
Update your car's first aid kit. If all you currently have is one bandage and a couple of cotton balls, you definitely need to restock. Visit Surefire CPR for a complete list of items that should be included in your vehicle's first aid kit, including items for minor cuts and abrasions as well as those for serious injuries and emergencies. It's always better to be over prepared where first aid is concerned.
Familiarize yourself with your route. When you're traveling to or through unknown destinations, it's wise to do some research on the area so you know if there are unsafe parts of town that you should avoid, where the hospitals and police stations are located, and where you can make a quick pit stop for supplies and fuel, if necessary. Researching ahead of time will also alert you to where those "can't miss" tourist attractions are, and help you find the most delicious meals and local treats.
Keep little ones happy. Plan ahead by packing healthy travel snacks (like granola bars, cut up fruit and veggies, and 100% fruit juice boxes), quiet activities like coloring or puzzle books, and a special stuffie or two to help keep tantrums and other distractions to a minimum so you can focus on the road. If your road trip is going to be particularly long, plan to stop a few times to let everyone stretch their legs and run around to blow off some steam. Check out Men's Health for their list of the ten healthiest road trip snack ideas.
Don't get distracted. Distracted driving is incredibly dangerous. In fact, according to police right across Canada, distracted driving causes more accidents than impaired driving.2
CAA recommends the following safety measures to avoid distracted driving:
Do:
Set your GPS and review your maps and directions before driving.
Stow and secure loose objects.
Make sure children have everything they need before you start the car.
Let any incoming calls go to voicemail if you're driving.
Keep two hands on the wheel at all times.
While driving do not:
text, use apps or read emails,
talk on the phone, or
eat or drink.
Get lots of rest. According to the National Highway Traffic Safety Administration, driving while drowsy is a contributing factor in 100,000 accidents annually.3 Make sure you're not sleepy when you're behind the wheel, and switch off with another adult every few hours, if possible.
Finally, don't forget…
jumper cables
a spare tire
cell phone charger
a flashlight
Happy – and safe – travels this summer!
SOURCES
1 https://mobiloil.com/en/article/travel-and-safety/travel-tips/car-maintenance-checklist-for-road-trips
2 https://www.caa.ca/distracted-driving/
3 https://www.parents.com/fun/vacation/ideas/7-safety-tips-for-your-next-road-trip/
416407D CAN/US (08/18)