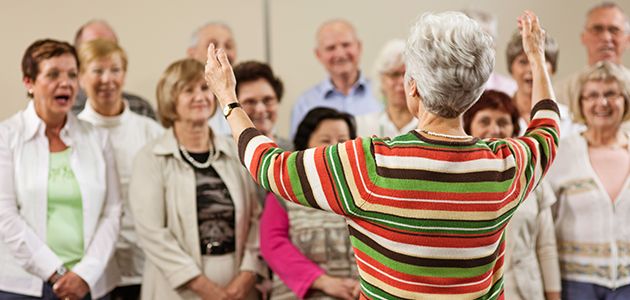 You probably know from personal experience that singing feels good. Whether it's belting out a Beatles tune in the shower, or singing along to the radio while you're driving, using your voice to create music is an incredibly pleasurable experience. Even if you've been told that you can't carry a tune in a bucket, it doesn't seem to diminish the joy you get when you open up your mouth and a song comes out.
It turns out there's good reason for the rush of pleasure that singing brings with it. Studies have shown that feel-good endorphins and oxytocin, a hormone that has been found to alleviate stress and anxiety, are released when we sing1. In addition, people who sing regularly have been shown to have lower levels of cortisol, the body's main stress hormone2. Research on the benefits of singing done in England also show that singing improves lung function, breathing awareness, and memory training, which are beneficial to both physical and mental health, especially as we age3.
With evidence this compelling, there's really no reason not to sing, and joining a community choir is one of the best ways to make sure you're enjoying it on a regular basis. Singing with a group of people is a great opportunity to meet new friends, expand your social circle, and stay connected to the community around you in a brand new way.
If you've never been in a choir before, the idea of joining one may be daunting. The trick is finding the group that's right for you, and there's bound to be one out there! There are choirs that cater to certain age groups, skill levels and interests; choirs that perform regularly; and those that simply exist for the joy of singing in their rehearsal spaces. Church choirs are always eager to add new members, and often aren't terribly picky about skill level and experience. If you're not interested in singing sacred music, look to community choirs.
You'll want to figure out exactly what type of music you're interested in singing. Show tunes? Classical masterworks? Barbershop? Popular hits? Old classics? Knowing the genre that interests you will help you narrow your focus. Also think about how committed you're able to be (some choirs have strict attendance rules while others have more of a "drop in when you can" policy), and whether you want a relaxed, social atmosphere or a choir that's more focused on technical excellence and performance quality.
If you want to do some research on choirs in your area, Choir Place lets you search for choirs in your country, and filters the results by voices, choir types, and genres. Meet Up is another site that can help you find choirs in your area.
You can also simply Google, "Join a choir near me" and see what the search results yield. And don't forget about the power of social media! If you're on Facebook, tell your friends that you're interested in joining a choir, and ask if anyone is already part of one, or knows about one they could recommend to you.
In addition to the health benefits listed above, singing is a wonderful way to express yourself, and to remind yourself that you have the power to create a joyful experience and to find beauty in a sometimes difficult and stressful world.
For more tips on finding and joining a choir that's just right for you, visit Music Industry How To.
SOURCES
1, 2 http://ideas.time.com/2013/08/16/singing-changes-your-brain/
3 https://www.riseupandsing.org/singing/health-benefits
417716 CAN/US (08/19)