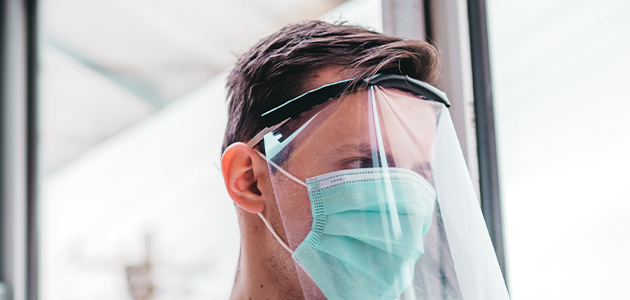 Many of us have been able to transition to working from home during this current crisis, and while it's certainly not ideal, one of the most important things we can do is stay home.
Healthcare workers, grocery store employees, delivery people, truck drivers, food service workers, sanitation workers, pharmacy staff, postal workers, first responders, and warehouse fulfillment staff are getting up and going out every day to make sure we have all the essential things we need to stay safe, fed, and as healthy as possible.
These essential workers have been doing so much for our communities and we have suggestions for meaningful ways you can thank them for their service, commitment, and dedication.
Share a sign of gratitude. Make handmade signs to put in front-facing windows or on your front lawn thanking essential workers for their service. This is a great art lesson for kids—signs can be made on paper using markers—but if you want your signs to be a little bigger and bit more dramatic, visit Lowes for some impressive DIY sign inspiration.
Send a note. If you have a friend or family member who is an essential frontline worker, take the time to mail them a note or card of thanks. If you're able, include a gift card for a local take-out restaurant or coffee shop so they can have a meal or a treat on you.
Make a meal. If you can, safely drop off a homemade meal to an essential worker in your neighborhood so they can come home from a busy shift and enjoy a delicious dinner they didn't have to prepare. Remember to practice good hygiene while making the meal, and adhere to physical distancing guidelines when dropping it off. Visit Allrecipes for 10 great shareable casseroles. If baking is more your thing, a batch of your favorite homemade cookies is also likely to hit the spot—and it's something that can be shared with coworkers, if your recipient so desires!
Offer to help. There are ways to physically help friends and neighbors who are essential workers while still following social distancing rules. You could offer to pick up and safely drop off groceries, share puzzles and games to keep their children entertained, or even do some yard work or outside home repairs if you're handy and able.
Chalk your walk. Write messages of thanks on your driveway and sidewalk so those passing by can see your words of appreciation.
Film a tribute. If you're the creative type, film a tribute video that you can upload to social media. Write a song or a poem, or just speak your heartfelt words of thanks into the camera and post it online, making sure to tag any frontline workers you know. Knowing what a difference these dedicated workers are making in your day-to-day life, and how appreciative you truly are, is sure to lift their spirits.
Foresters Financial™ can also help you show your appreciation and make a difference during this difficult time. To support members who want to give back to their communities, we have created a temporary community grant called Caring Through Crisis that will support safe, contact-free volunteer efforts in local communities.
The grant will be available until August 31, 2020 throughout Canada, the U.S. and the U.K., and can be used for anything from delivering coffee to frontline workers, to building boredom-busting kits for kids in need, to supporting a local food bank. Click here to learn more about Caring Through Crisis.
Remember, one of the most important ways to support frontline workers is to stay home—especially if you are sick in any way—so that those who have no choice but to leave their homes to go to work can do their jobs as safely as possible.
417953C CAN/US 06/20