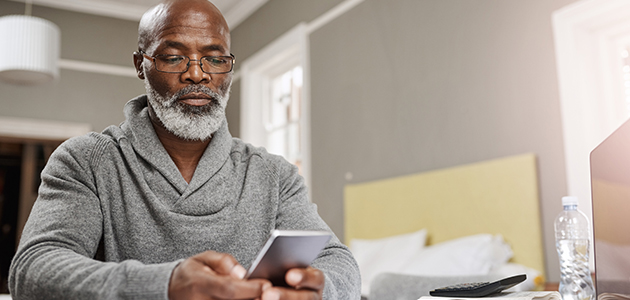 We don't like to think about a time when we may find it difficult to do tasks that were once simple for us because of mental or physical decline. Loss of any kind of independence as we age can be a frightening and upsetting prospect. But unfortunately it is something we do need to think about in order to protect ourselves. Consider it a worst-case scenario situation. It might happen, but it's wise to plan ahead even if the measures you take are never needed.
When cognitive decline impacts your ability to manage your finances, it puts you at risk of making costly mistakes, being prey to financial scams, and potentially even being exploited by family and friends.
According to Better Health While Aging1, the signs of financial decline include:
Taking longer to complete everyday financial tasks
Reduced attention to details in financial documents
Decline in everyday math skills
Decreased understanding of financial concepts
Difficulty identifying risks in financial opportunity
If you find that you or a loved one is having trouble with everyday tasks, including financial tasks, it's important to speak with your doctor. Some cognitive decline is perfectly normal as we age—our brains age just like the rest of our body, after all—but sometimes decline can be a sign of something more serious going on. Your doctor can run tests and blood work to determine if your issues are simply normal signs of aging, or if you have a medical issue like depression, thyroid problems or a vitamin B12 deficiency that's contributing to your issues.2
Better Health While Aging recommends being proactive and taking the following steps in order to protect yourself or an aging friend or relative from future financial decline:
Simplify your financial life. Our ability to manage our financial affairs peaks in our mid-50s, so simplifying your finances around retirement age makes sense.
Plan ahead. Address your financial planning early on using legal tools like financial power of attorney and living trusts.
Preauthorize your lawyer and financial planners to contact a trusted relative or friend. Professionals you deal with may be able to detect diminished cognitive function. If you preauthorize them to contact someone you trust, it can mean the difference between promptly getting the help you need to protect your assets, and experiencing a financial disaster.
Allow someone you trust to monitor your accounts. Whether it's a trusted family member, friend, or a professional such as a fiduciary, allowing someone to monitor your accounts can help ensure that no one is taking advantage of you.
Remember, as a Foresters member, you have access to Everyday Money, our toll-free financial helpline that connects you to an accredited counselor who can help answer your questions about your personal financial matters such as debt management and budgeting. With Legal Link you can consult with a local legal professional for help with a variety of issues including wills, estate planning, home ownership and family law – all at a reduced cost. Visit MyForesters.com for more information on both of these member benefits.
SOURCES
1, 2 https://betterhealthwhileaging.net/5-things-to-know-aging-financial-decline/
417807 CAN/US (10/19)