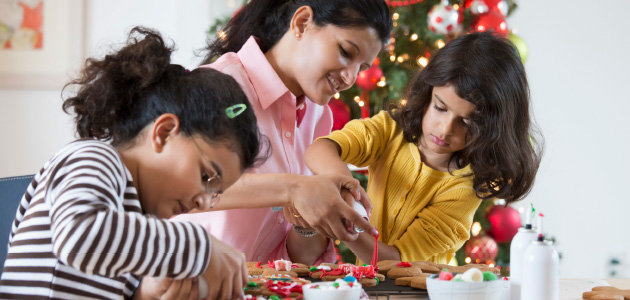 Keeping everyone busy and engaged during the cold-weather months just got easier with our how-to list of winter fun! Work some – or all – of these activities into your weekends and spare time, and enjoy making wonderful memories together.

How to build the best blanket fort. You just need some sheets, clothesline and fasteners to create a Pinterest-worthy fort even you'll want to crawl into for a while! Add a string of lights, cozy pillows, a blanket and snacks for a truly magical experience. Pretty Providence has a great tutorial and video to help you with construction and styling.
How to make shaped pancakes. You may have tried making letters or simple shapes like hearts in the past, but you can get extra fancy by using squeeze bottles and food coloring to create works of pancake art! Instructables provides a step-by-step guide for creating edible magic.
How to do good deeds together. Figure out what's important to your family – helping the homeless, taking care of neighbors in need, feeding the hungry – and write down a list of ways you can work together to make a difference. Perhaps you can shovel an elderly neighbor's driveway, collect food for your local food bank, check to see if your local fire station accepts homemade cookies or learn to make and donate mittens, hats, scarves or no-sew fleece blankets to charity.

Want more inspiration? With Foresters Community Volunteer grants, members can apply online for grants of up to $2,000 to organize and lead a volunteer activity that's meaningful for them and their community. Members can also attend any of these activities as a volunteer. Visit MyForesters.com to find out about volunteer opportunities right in your own community.
How to bake the best sugar cookies. You might already have a tried-and-true family favorite, but if not, visit Sally's Baking Addiction for a recipe and how-to video, including icing tips. Rolled sugar cookies are wonderful fun because they can be cut into seasonal shapes like Christmas holly, Valentine's Day hearts and winter snowflakes, and made all year long!
How to make paper snowflakes. Remember the magic of making little cuts into folded pieces of paper and opening them up to reveal beautiful, intricate designs? Share that experience with your children or grandchildren and create some fun winter décor in the process. Check out Today's Parent for a no-fail, 45-second snowflake tutorial.
How to make a winter birdfeeder. Our feathered friends who don't fly south for the winter often need a little extra help to stay fed and healthy through the colder months. Family Handyman has 14 easy, DIY winter bird feeder ideas you can try using stuff you probably already have lying around the house – including Lego blocks!
How to make homemade hot chocolate. We mean the real stuff oozing with rich chocolate flavour! There are lots of recipes online, but Jamie Oliver's Epic Hot Chocolate is one of the best! You can make the mix and store it in a jar so you'll always have some on hand when you need a sweet way to warm up and extra feel cozy.
How to have a winter family photo shoot. Smartphones allow us to take photos any time we want, and we all probably have hundreds stored on our phones. But when was the last time you had a proper portrait of your family taken? Winter is a wonderful time to do this because nature provides some spectacular outdoor backdrops. You don't need to hire a photographer – a tripod is all you need. PastBook has some great suggestions for making beautiful and creative photos of your loved ones.
Looking for more winter activity ideas? Bucket List Journey has 55 more suggestions for fun activities your whole family will enjoy this winter. 417965A CAN/US 12/20