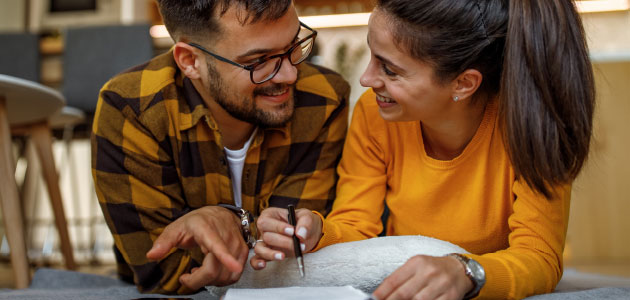 You did it! You made it through 2020! While it's true that flipping the calendar over to a brand new year isn't going to magically change everything, the idea of a blank slate filled with hope and possibility is just what we all need right now.

Take a leap of faith and embrace that promise by actively looking for ways to find and spread hope and happiness in 2021. If you need a little inspiration, these ideas and activities might help you plan for a better year to come.
Talk about the future. We know the pandemic will end, and even if the "new normal" looks a bit different than the one we remember, it's important to keep in mind that every day we're one step closer to that better future. Talk about the things you'll do when it's safe to get out and about. Ask your children what things they want to do and start planning those trips, visits and outings. Even if it's a while before you can actually do them, the excitement of knowing those experiences are coming can help pull you through right now.
Plan a garden. Literally plant the seeds of hope! If you have a yard or space on a balcony, you can start planning your garden right now. Will it be an edible garden filled with herbs and vegetables you can harvest and share, or a mass of cheerful flowers that will raise the spirits of everyone in your neighborhood? The beautiful choice is yours! If it's still too cold to do any outside planting or garden prep in your area right now, indoor window gardens can bring some cheer and the promise of spring into your home in the meantime.
Volunteer. Giving back to your community is one of the best ways to share your hope for a brighter future with others, and there are many ways to volunteer while still adhering to public health safety restrictions. You could put together blessing bags to donate to your local shelter, explore one of the many ways to volunteer online without leaving your home, or make something you can donate to charities that are still accepting items (chemo caps, warm scarves, lapghans or mittens). Visit MyForesters to find out about volunteer opportunities right in your own community.
Make a commitment to connect. Write a handwritten letter to a different friend or family member each week, send check-in texts and emails regularly and pick up the phone so someone you love can year your voice. Reaching out to connect with friends and family members is particularly important when in-person visits are not possible. You can use this time to share your plans for post-pandemic life, and help encourage them to get excited about those days (that really are coming!) too.

Take control of your health. Do what you can to stay strong and healthy in both body and mind. Go for regular brisk walks, commit to eating a healthy, balanced diet; talk to your doctor about any relevant tests, screenings or vaccinations you might be due to have; check your blood pressure regularly; quit smoking, and try simple mindfulness exercises for stress reduction.
Play. Letting go and allowing yourself to have fun is truly an act of hope during difficult times. It's healthy to put your worries on the backburner for a little while and just enjoy yourself, so plan a game night with your partner and kids, order some art supplies and get messy, do a puzzle, sing and dance around the house or go to the park and toss a ball around.
We've finally put a very challenging year behind us, so try to look to the future and this brand-new year with renewed hope by embracing every opportunity to enjoy your life and the people around you.
419531A CAN/US (01/21)