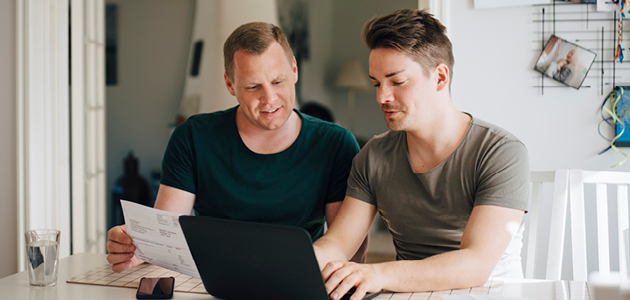 For many of us, the past two years have been defined by change. Considering that so many aspects of our lives have been altered, there's a chance our financial circumstances – or perspective – have changed too.  As we begin to look at life beyond the pandemic, it's important to review your existing financial plans to make sure they align with any life changes or new goals you may have set.
By adopting holistic plans and healthy money habits, they may have a significant, positive impact not only on your finances, but on your overall wellbeing.
The following1 are a few key strategies everyone should consider in establishing a well-rounded financial plan:
Evaluate Your Assets and Debts
Before developing a financial plan, it's important to know what you already own, the value of your assets, and how much outstanding debt you may owe.  This understanding will provide an overview of your financial situation and lay the groundwork for your comprehensive plan.
Set Goals
Perhaps the most important element of a solid financial plan is understanding why you're saving and/or investing.  By setting both short- and long-term goals, you will have clear benchmarks of your progress and financial state.
Create a Budget
Rather than take a reactive approach to managing money, develop a budget –  a proactive step that will keep your plans and goals on track. Having a strong handle on income and expenditures will give you the information you need to make conscious decisions about how to spend your money.
Pay Down Debt
We all enjoy the "buy now, pay later" model that is so enticing, but it can snowball into a significant financial burden if we lose sight of expenses.  High-interest consumer debt, like credit cards, can weigh on financial growth, erode your credit score and deteriorate the savings you've worked so hard for.
Prioritize Your Spending
We've all heard the old maxim "live within your means!" This is about prioritizing expenditures and focusing on what is essential versus discretionary – those "nice to haves."  With a clearer understanding of your cash flow, determine an appropriate balance between savings and spending.  Actively saving to fund larger purchases over a longer period of time will facilitate healthier money habits and ensure you have sufficient funds for the other parts of your plan.
Retirement Savings
Although retirement planning may seem tedious or out of reach, it's imperative to have a plan in place to ensure you can live comfortably when the time comes.  The earlier you start saving and investing for retirement, the better your odds of enjoying your golden years. Leverage workplace retirement plans like a 401(k) or contribute to your own IRA to compound savings and bring your retirement dreams into reality.
Insurance Planning
You've worked hard to accrue your assets; it's critical you protect them for yourself and your family.  Make sure you have ample life, health, disability, home and auto insurance protection in place so that any unforeseen circumstances don't leave your family in financial duress.
Charitable Giving
The main barrier for charitable giving is often a lack of planning.  Charitable giving is not exclusive to those who are wealthy; philanthropy should be accessible across all income levels and ages.  Giving is personal and provides an opportunity to support a cause you're passionate about.  Not only are charitable donations generally tax-deductible, but they can also have a positive impact on your household and a profound impact on your overall health and wellness.
Develop an Estate Plan
Discussions about aging, cognitive decline, and death may be uncomfortable for many, but opening the narrative to discuss who will make financial and health decisions on your behalf can provide an added layer of risk protection and help avoid confusion should you no longer be able to make those decisions.  Identify your beneficiaries in the event of death and consider legal assistance to coordinate the distribution of your estate.  Creating a will outlining your final wishes in the event of death is also highly recommended and enables you to be the final decision maker.  It can avoid a burdensome, potentially confrontational, situation for families who are left to settle an estate without any guidance from the deceased.
Prepare your online Will and Power of attorney documents through LawAssure, visit MyForeseters to learn more!2
If you're interested in learning more about any of these strategies, please consult your financial planning, tax or insurance professional.  Through proper preparation, we can all be more equipped to overcome the financial challenges of life.
Footnotes
1 Foresters, their employees and life insurance representatives, do not provide, on Foresters behalf, financial, estate, tax or legal advice. Individuals should consult their financial, estate, tax or legal advisor regarding their situation.
2 LawAssure is provided by Epoq, Inc. Epoq is an independent service provider and is not affiliated with Foresters. LawAssure is not a legal service or legal advice and is not a substitute for legal advice or services of a licensed attorney. Foresters Financial, their employees and life insurance representatives, do not provide, on Foresters behalf, legal, estate or tax advice. Some features not available in Louisiana.
420815 CAN/US (07/22)