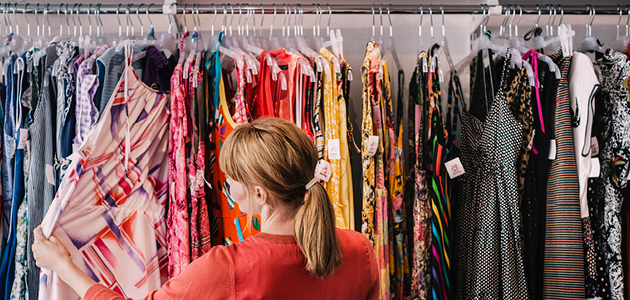 Garage sales, flea markets and secondhand stores used to be places where you might find a great deal on something you needed, like a slightly beat-up pair of jeans or a funky old chair for your basement. But today, thanks to the rise of online marketplaces like Etsy and eBay, a certain segment of the population sees these places as a means to a financial end.
They are the thrift-store flippers: those who buy other people's trash and sell it to people who see a treasure instead. And in fact, when you know what to look for, sometimes thrift stores and garage sales actually do have treasures for sale. In 2021, an acrylic painting by rock icon David Bowie was found at a donation centre in Northern Ontario. The price tag there was just $5, but it was later sold by an auction house for over $108,000.1
While this sort of bargain-hunting outcome certainly isn't the norm, it's true that people often donate vintage items without knowing the true value of those pieces. And that's where the money is made.
When you know what you're looking for, you can turn a tidy little profit by picking up and flipping everything from vintage kitchenware to concert t-shirts and merchandise featuring licensed characters.
Tips for flippers
Get organized. You'll need space to store your finds while you're waiting for them to sell, proper mailing and packing supplies, and a place to list your items.
Determine your shipping costs. Make sure you're aware of how much it costs to ship large or heavy items and determine if you're willing to risk trying to sell those types of things. Buyers can end up backing out of a sale once they see how much shipping costs, so make sure your strategy works for you.
Do your research. Determine what you want to search for and sell based on your own interests and experience, or on what flipping experts say tends to sell well.
Keep your phone handy. When you're at a thrift shop or garage sale, use your phone to do some quick research on an item you've spotted if you don't know much about it. Find out what it is and what that same item has sold for in the past.
Look for designer brands. Most people can't, or don't want to, spend a fortune on brand new designer purses, for example. But they might be thrilled to have a shot at a second-hand Gucci or Coach bag that's still in good condition but being sold for a fraction of the price.
Inspect items carefully. Look for cracks, tears, stains and other imperfections that might reduce the resale value of the item you're looking at. Sometimes these things don't matter, but other times they can make the item very difficult to sell for a decent profit.
Shop in or near affluent neighborhoods. Thrift stores in these locations are more likely to have high-end merchandise and designer goods.
Take good photographs. The photo of the item you're selling is the only opportunity a buyer has to see it. Make sure the item is clean and well lit, and double check that your photographs are crisp and clear after you take them.
Be patient. It may take several visits to thrift stores to find a few worthwhile pieces. Keep checking back regularly, and find out when the stores restock, so you can be there when new merchandise hits the shelves.
Be prepared for criticism. Some people feel that items in thrift stores should only be sold to people who can't afford to buy them new – not to flippers who are looking to make a profit. But thrift stores rely on buyers of all kinds to stay in business, and many of them donate a portion of their sales and provide job training for underprivileged people. When you thrift and flip, not only are you keeping unwanted items out of landfills, but you are also helping thrift stores stay in the business of helping others.
If you're crafty, don't forget that there's also an opportunity to turn thrift-store finds into something brand new to sell. Try to keep an eye out for items that can be used as raw materials to create a completely different item, like clothing with great patterns that could be turned into fantastic quilts. If you're a Foresters member, the Lifelong Learning online learning library has a brand-new quilting course in addition to hundreds of other courses to help you achieve personal or professional goals – or to enjoy just for fun! Go to MyForesters.com to access the Lifelong Learning benefit.
For more flipping tips, visit Invested Wallet, and check out Crazy Lamp Lady to see a successful thrifter in action.
SOURCE
1 https://www.cbc.ca/news/entertainment/david-bowie-painting-sold-record-setting-100k-1.6080441
420871 CAN/US (08/22)