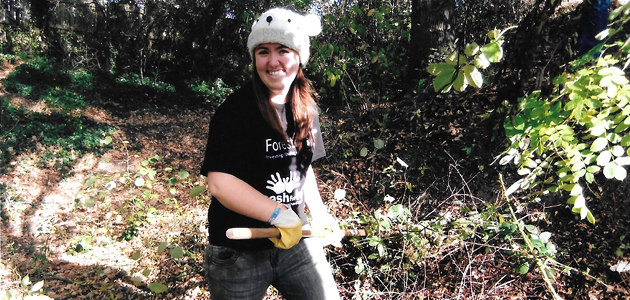 In 2019, Kayleigh Davenport was awarded the prestigious Duke of Edinburgh's Award for youth leadership. The awards ceremony took place at Buckingham Palace in London. "It's just as big as you imagine," she says with a smile. "The gardens are amazing, acres and acres of trees and flowers!"
The award is a rigorous program designed to help young people build skills, confidence and resilience to navigate adult life in a meaningful way. Volunteering is one of five components of the Gold Award and Kayleigh fulfilled it with her experience on her local Foresters Branch Council in Kidderminster, U.K.
Building a better future
"I met a lot of kids and young adults that are very passionate about volunteering," she says about the experience. "It was encouraging to see the amount of younger people that want to help others."
Kayleigh, now 27, has been involved with Foresters for most of her life. Both her parents are members and her dad is a Regional Councillor. She has memories of camping trips, Community Volunteer and Fun Family activities. When heading off to university, she applied for and was awarded a Foresters Competitive Scholarship. Eventually, she took the plunge and became a Branch Councillor herself (and later Vice President of her Branch). It's been quite a journey so far, and she's excited about the future – specifically how she and her generation can help make a positive impact.
"My main aim for becoming a Branch Councillor and putting on events is to try and encourage the younger generation to come through," she says. When the COVID-19 pandemic allows, Kayleigh plans to add youthful variety to the types of activities she and her Branch host. "Events on topics that are in a lot of younger people's hearts would encourage more people to get involved," she says. She names Black Lives Matter, Pride and other relevant issues as examples. "Once people have been involved once, that lights the fire in their heart to carry on."
Something for everyone
As a woman working in construction, Kayleigh has built a career in a predominantly male industry. She is no stranger to breaking stereotypes. When it comes to managing Foresters volunteer activities, she emphasizes diversity and inclusion. She wants her events to be open to all.
"We've helped out in the community center," she explains. "Tiling kitchens, new doors, basically revamping their facility." Telling the story, Kayleigh is smiling remembering the teamwork during the job. They made a point of dividing up tasks so there was something for everyone. "There's always a role for any age, any ability, any person," she says. What about kids? "We give them the hard tasks so they don't get bored, and to show them how to do different things in life."
Why get involved?
Kayleigh brought health and safety knowledge from her job into her volunteer work with Foresters. And the skills she is now building as a Branch Councillor will also boost her career. It's a two-way street. "You're managing events, but you're also in a management role within your Branch Council," she says. "It's helped me a lot with my communication skills and definitely helps in other aspects of my life as well."
Kayleigh has travelled to Foresters annual Leadership Development Conference for member leaders and connected with them over similar community-building values. "It's very inspiring," she says. "You meet people of all ages from different parts of the world. It gives you a lot of ideas to bring back home."
For Kayleigh, it all comes back to helping people. Over the years, she has applied for Community Grants to organize refurbishment projects, including a community hall and her local cricket ground. She's participated in Foresters playground builds and, more recently, she received a Caring Through Crisis grant to donate books and school supplies during the COVID-19 lockdown. "I like to be a bit of a problem solver, I suppose," she says.  "I get a lot of satisfaction from seeing people happier and in a better situation."
While the pandemic has temporarily changed how we are able to give back, Foresters members across the United States, Canada and the U.K. have found ways to continue to support their communities. For Kayleigh, it's important to help people through the current crisis and be hopeful for a better future. She's got a lot of plans, and it will be exciting to see them in action!
"Helping out your community, putting a smile on people's faces and creating a Foresters family — that's what I love about Foresters," she says.
Foresters Financial member benefits are non-contractual, subject to benefit specific eligibility requirements, definitions and limitations and may be changed or cancelled without notice.
419755 CAN/US (04/21)