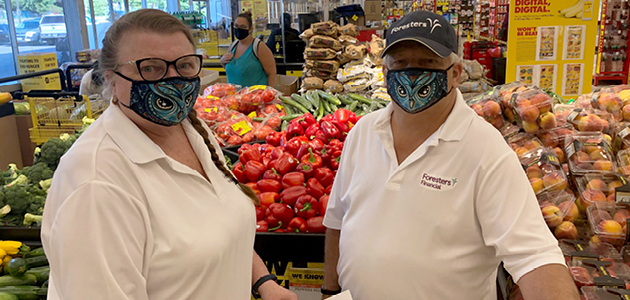 Kathleen and Gary Dionne, a husband and wife team from Toronto, Ontario, have been Foresters members for 45 years and involved with their local Branch Council for more than 30. "We just like helping people," says Kathleen. "When there's a need, you give out, you give back."
People often ask Gary what's in it for him. "You can be measured for doing nothing or you can be measured for doing something," he says. "I've been thinking about my legacy since I was 18 years old." Sitting beside him on the Zoom chat, Kathleen jokes that he's now an old man. "I was an old man at 18," he laughs.
Support for kids and families
Kathleen and Gary have worked with their local Branch Council to organize countless community activities and create giving opportunities. Before the COVID-19 pandemic hit, Fun Family activities gave local families a chance to visit the Toronto Zoo, spend a day at a local theme park and join other members at movie screenings. With Foresters financial support and members organizing, member families who may not otherwise have these opportunities could join, have fun and meet new people.
Over the years, Kathleen and Gary have developed a relationship with their local Ronald McDonald House, a charitable organization that gives families a place to live while their sick children are treated at nearby hospitals. With Foresters Community Volunteer grants, they were able to provide bagged lunches for families spending the day at hospitals, and evening meals for when they return to the house for the evening.
 "We were making roast beef dinners, shish kebabs, turkeys and hams for the 180 people or so that were at Ronald McDonald house," says Gary. The couple rallies a team of local Foresters members, purchases the food, prepares the meal and stays to clean up afterward. They are long days, but Gary and Kathleen are emotional when they talk about the experience. The families they serve are living through the unthinkable, and a homecooked meal from caring people can make a difference in their day. "A lot of us were asked to sit afterwards and have our meal with them, so we got to know some of the families and their situations," says Gary. "It was food for our souls, we felt good doing it." 
Lasting family values
"There's always a need, so once you participate you can't stop," says Kathleen. "There's always someone who needs a helping hand." The couple's commitment to giving back through Foresters extends to the next generation. "We also raised our four children as Foresters members," Kathleen says proudly. "They've attended all of the functions that we hosted, and they are now adults teaching their own children how to be Forester members and be involved in their communities."
"I didn't want to be the father who never went to the hockey game, the father who was so busy working that he didn't know what his children are doing," says Gary. "I wanted to be relevant in their lives and Foresters helps in terms of attaining some of those memories." Both Gary and Kathleen say that being a Foresters member leader helps them feel relevant in their communities, knowing they are doing something that will brighten someone's day and help build a better future.
Participating in Branch Council
Gary is the Vice President of their Branch Council in the Greater Toronto Area and Kathleen is a Regional Councillor for Canada and a liaison to Alberta Branch. For them, it's an opportunity to shape the member experience, give back and have fun with the people they've met along the way. "You can be a person who applies themselves to governance of the fraternal side of this organization," says Gary. "Our meetings are not very long, but we talk about who is doing what and you have input," he explains. "You have a say about how things might evolve in the future."
"With Foresters, not only are you paying your money to have life insurance, but it's also an organization that wants to help you help your community," says Kathleen. Working with your local Branch Council is a natural next step in living your purpose. By volunteering as a member leader with a local Branch Council, Foresters members can build community, learn new skills, and help shape the future of the member experience. The 2021 Branch Councillor Election results will be posted online by October 11. To see the winners, and to learn more about where our Branches fit within Foresters governance structure, visit MyForesters.com.
Foresters Financial member benefits are non-contractual, subject to benefit specific eligibility requirements, definitions and limitations and may be changed or cancelled without notice or are no longer available.
420170 CAN/US (10/21)