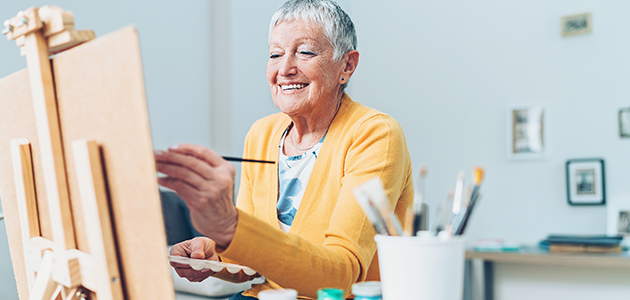 The holidays are meant to be a happy time filled with special moments shared with the people you love most. But when you're grieving the loss of someone special, the idea of finding any joy during your holiday celebrations can seem like a nearly impossible task.
We miss those we have loved and lost every day of the year, of course, but the ache is somehow more intense during special times of the year like Rosh Hashanah, Thanksgiving and Christmas. We may even find ourselves dreading the idea of celebrating the holidays when we don't have that one special person to share them with.
But the holidays come just the same.
If you're newly bereaved and feeling conflicted about the upcoming holiday season, or if you've been coping with a difficult loss for a few years and still struggle during the holidays, there are some strategies you can use to help you through the days and weeks to come.
The following tips from What's Your Grief1 may even help you experience a few precious moments of peace and joy – but if they don't, that's okay too. Grief is personal and there is no timeline for healing.
Acknowledge that the holidays will be different, and that it will be hard for you. This will give you permission to feel whatever it is you're feeling without any guilt or self-judgment; because remember, grieving is hard, exhausting work.
Decide what traditions you want to keep, and which ones you want to change, omit or perhaps just put on hold for a year or two. Take control and know that you don't have to simply go through the motions and do exactly as you always have in the past if it no longer feels right.
If you normally host the family dinner, ask someone else to take over this year if it feels like the effort might be too much for you. You don't have to be a hero at the expense of your own mental health and wellbeing.
Include your loved one in your celebrations in a way that feels right to you and your other grieving family members. You may want to light a special candle on your holiday table, set aside time to share memories about your loved one, bake their favorite holiday treat, or make a memorial ornament or wreath.
Share your grief. You are hurting, and you shouldn't have to pretend that you aren't. Talk to family members and friends about how you're feeling, and let them know what they can do to help you through these difficult days. Reaching out for support will help you feel less alone. If you don't have a network of supportive friends, consider talking to a counsellor who can help you navigate your grief during the holidays.
Splurge on yourself. You are going through something very difficult, so treat yourself to a holiday gift. You're entitled to spoil yourself!
If you feel you have to skip some celebrations or turn down invitations, do it – and don't feel guilty about it. You have to protect yourself right now, and if overextending yourself is going to cause you additional stress, then you should consider scaling back when you can.
Practice self-care. Make sure you're getting enough sleep, eating healthy meals and doing the things you need to do to feel comforted and recharged.
You are struggling, and your life probably feels upside down, difficult and unfair. But still, try to find one thing that you're grateful for each day – even if it's something very small and simple. Write it down before you go to bed. When you're feeling particularly low, look at the list you've created of good things and moments you've experienced in the midst of your grief and be proud of your ability to seek gratitude.
Remember that it's okay if you do find yourself feeling moments of joy. Your first instinct may be to feel guilty, but being happy doesn't diminish the love you have for the person who is missing at all.
The wife of a dying man once asked him, "What will I do without you? How will I carry on when you're gone?" His answer was so simple and beautiful. He said, "Take the love you have for me and give it to others."
There are many people who struggle during the holidays. Reaching out to someone in need can sometimes help to heal your own broken heart just a little bit. Consider choosing a gift you would have bought for your loved one and donate it to a charity, or contact a local place of worship to find out if there is a needy family you could support with a donation of food or gifts.
If you do feel you have the mental and physical energy to give back during the holidays in memory of your loved one, visit MyForesters.com to find out about volunteer opportunities in your community.
When you are grieving, one of the kindest things you can do for yourself is to allow yourself to feel what you're feeling without any judgment. Let it wash over you and recede again, just like a wave on the shore. Your grief may feel overwhelming during the days and weeks to come, but know that being attentive to your needs and taking good care of yourself will help you through.
For more information about grieving during the holidays, visit Psychology Today, and for a practical, step-by-step plan for dealing with grief during the holidays, visit What's Your Grief.
SOURCES
1 https://whatsyourgrief.com/64-tips-grief-at-the-holidays/
416770E CAN/US (11/18)