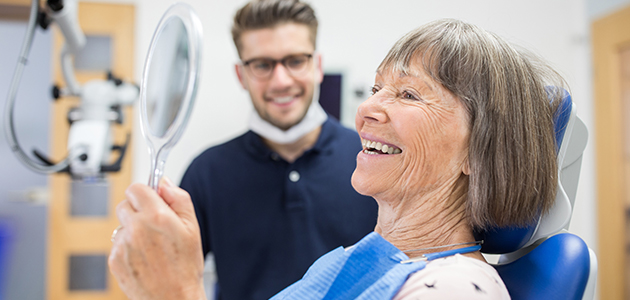 Clean, white teeth and fresh breath are obvious reasons to brush and floss regularly, but did you know that good oral hygiene is actually good for your health?
According to the Mayo Clinic1, poor oral health may contribute to various diseases and conditions including cardiovascular disease, pneumonia, pregnancy and birth complications, and endocarditis (the infection of the inner lining of your heart). So, all the more reason to pamper those pearly whites!
The good news is that with regular visits to the dentist and proper oral hygiene, you can prevent or solve these dental issues.
Tips for good oral health
Colgate2 has the following suggestions for seniors who want to keep their choppers in tip-top shape:
Go to the dentist regularly. Even if you have dentures, it's still important for the dentist to have a look at your gums and mouth tissue on a regular basis. Don't wait until you have a problem either—schedule regular check-ups based on the schedule your dentist recommends for your unique needs.
Use an antibacterial mouthwash. You should brush and floss twice daily, but also use an antibacterial mouthwash, which can help reduce the buildup of plaque.
Avoid tobacco. In addition to heart disease and other serious conditions, tobacco in any form has been linked to an increased risk of mouth and throat cancer, gum disease, tooth decay, and tooth loss, so it's a good habit to break.
Increase your hydration. If you're taking a medication that causes dry mouth, make sure to drink plenty of water and try to avoid alcohol, which tends to dehydrate your body.
Eat a healthy diet. Watch your sugar intake and make sure to eat whole foods that provide the maximum amount of beneficial vitamins and minerals, especially those that contribute to good bone health.
Use an electric toothbrush if you have arthritis. If brushing your teeth is difficult because your hands just won't work the way they used to, try using an electric toothbrush which has a larger shaft and requires less physical effort. The aim is to brush twice a day, and it's much easier to stick to it if you make it as easy and as pain-free as possible.
As always, if you have any concerns about your health or oral health, make sure to visit your healthcare professionals right away. In most cases, the sooner you identify problems, the easier they are to treat.
Visit Mouth Healthy for more information on how to keep your teeth clean and healthy.
 SOURCES
1 https://www.mayoclinic.org/healthy-lifestyle/adult-health/in-depth/dental/art-20047475
2  https://www.colgate.com/en-us/oral-health/life-stages/oral-care-age-55-up/oral-care-tips-for-older-adults-0213
417949F CAN/US 04/20