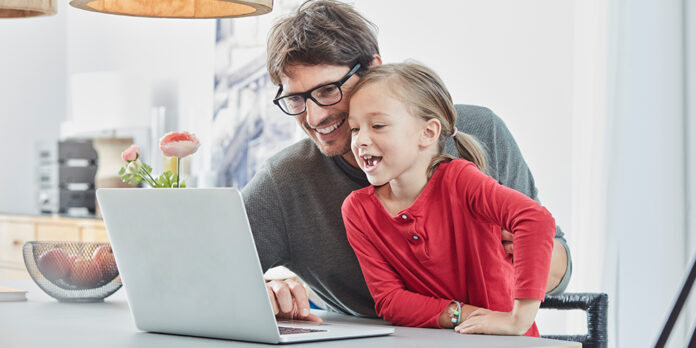 Social distancing is proving to be a critical strategy for "flattening the curve," which means reducing the number of people becoming infected with COVID-19 in order to ensure that hospitals are not overwhelmed by patients needing care.
The good news is that it's strategy with proven results1 but staying home and only going out when it's necessary is a challenge. We're social animals, and not being able to hang out with friends and even family members is difficult for everyone.
But it's critical that we continue to do all we can to stop the spread, and that means staying home.
You may be running out of novel ways to keep your kids—and yourselves—entertained by now, so we've found resources that may help you pass the time at home.
For children
Kids and animals are a natural fit. Check out Adventure Journal for a list of live animal cams.
Worried about your child missing school—and how you can help them continue learning while at home? Visit Kids Activities for a list of education companies offering free subscriptions due to school closings.
Schedule daily video chats with best friends, grandparents, and other special people in your child's life. Kids thrive on routine, so set up the calls for the same time each day, if possible.
Film TikTok videos. If you're not sure what they are, check out Parade for everything you need to know about the app, how it works, and why young people love it so much!
Have a celebrity read to your kids! Stars like Josh Gad, Amy Adams, and Jennifer Garner are reading children's books on social media to support families who are home from school. Visit DeseretNews for links and more information. And if your kids are space fans, check out Stories from Space for links to books read by real-life astronauts.
Make lunch time art time with animator and children's book creator Mo Willems! Lunch Doodles with Mo Willems are fun, 20-minute drawing classes for kids that can be found on YouTube. You might also want to check out McHarper Manor on Facebook for free daily art tutorials.
Help your kids learn the calming practice of mindfulness with free, downloadable resources from The Creative Classroom.
Help little hands develop fine motor skills with 25 fine motor activities using household items. Visit Mamaot for more information.
Try some cool science experiments with Bill Nye the Science Guy!
For teens and adults
This is a challenging time for adults and children, so please reach out if you need help coping with your own fears and anxiety, or theirs. Visit Here To Help for reassurance that what you're feeling is a normal reaction to an extreme situation, and advice for helping you through it.
And because children struggle too, the following tips may help your child during quarantine or isolation2:
Reassure them that they are safe and encourage them to talk about how they feel.
Tell them they can ask questions, and answer these in plain language appropriate to their age.
Be understanding—they may have problems sleeping, be upset and need extra care and love.
Remember that children look to their parents to both feel safe and to know how to respond—reassure them and let them know you will all be fine together.
Try to keep to normal routines—mealtimes, snack time, bedtimes—and allow them to get outside and play, if it's possible to do so while adhering to safe social distancing practices.
SOURCES
1 https://www.nature.com/articles/d41586-020-00741-x
2 https://www.health.govt.nz/system/files/documents/pages/infosheet-children_in_self-isolation-english-9032020_0.pdf
417949A CAN/US 04/20