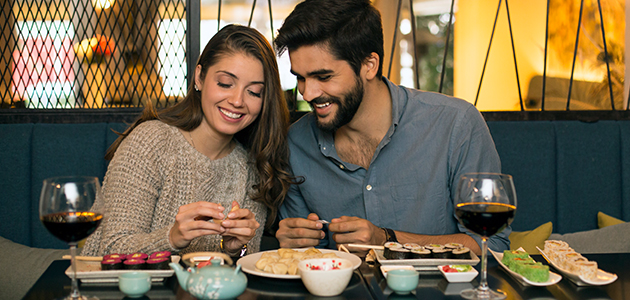 Although we generally associate Valentine's Day with rich meals, indulgent desserts, and chocolate truffles, it might actually be sweeter (and healthier!) to treat your special someone to a heart-friendly menu on February 14. Don't worry that you'll be sacrificing flavor and plate appeal when you choose healthier options—a healthy plate is a gorgeous, colorful masterpiece that can taste every bit as good as it looks!
That's because according to the Heart and Stroke Foundation,1 at least half of every plate you eat should be filled with colorful fruits and vegetables. They're packed with nutrients, minerals, and fibre, and they help keep you full longer. Frozen fruits and vegetables are often more affordable and are almost every bit as nutritionally packed as fresh.
The rest of your plate should be divided evenly between whole grain foods like brown or wild rice, quinoa, oatmeal, and hulled barley; and healthy proteins like legumes, nuts, seeds, tofu, fish, shellfish, eggs, poultry, lean red meats, and lower fat cheeses and yogurt.
Notice that these are all "whole" foods, which means they're not processed, or, as in the case of cheese and yogurt, just minimally processed. Processed foods (packaged foods like frozen pizza and dinners, hot dogs, fast food, chips, deli meats, white rice and white bread), often lose important nutrients during processing, and have unhealthy levels of added sugar and salt. They should be limited or avoided, if possible, so keep them off your heart-healthy Valentine's day menu!
Visit sites like Eating Well, Cooking Light, Delish, and the Healthy Home Cook for a selection of healthy, romantic dinners for two.
But what about dessert?
No need to skip dessert when you're eating with heart health in mind. The American Heart Association has a selection of delicious heart-friendly dessert recipes to choose from including steamed pumpkin bread, apples with almond-apricot sauce, blackberry cobbler, and avocado-dark chocolate glazed doughnuts. Or visit Heart UK to treat your sweetie to apple and raspberries in a red wine sauce, chocolate sponge, or pear and almond flan.
They say love is eternal, so show your undying passion for your Valentine by making them a wonderfully healthy meal that their heart will thank you for this Valentine's Day.
SOURCES
1 https://www.heartandstroke.ca/get-healthy/healthy-eating/healthy-eating-basics
4179434A CAN/US 02/20