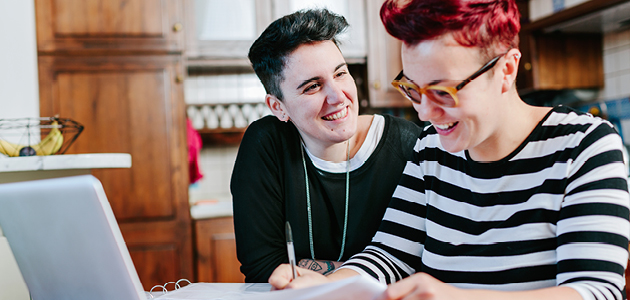 There is no question that the pandemic has impacted the personal finances of millions of people. Now that things are beginning to shift back to a more normal way of life for many of us, it's time to figure out how to get your financial house back in order.

Here are a few tips and ideas from several financial experts interviewed by Forbes1 magazine.
1. Reevaluate your plans. Everything has changed, so it's possible your goals, risk tolerance or needs have too. Even if you have a financial plan in place, it's always a good idea to reevaluate on a regular basis to make sure your strategy is helping you work toward your goals.
2. Examine your budget. Start by looking at how much money you have coming in and what you're currently spending it on. If you experienced a job loss or furlough during the pandemic, the budget you had in 2019 might need updating. If you don't have a household budget, now is the time to make one — and it couldn't be easier with these seven steps!
3. Live within your means. Many people were forced to cut back due to financial constraints during the pandemic, and while that's never easy, being at home may have reduced impulse buys and other spending. As pandemic-related restrictions are lifted, it may be tempting to go back to enjoying all those little extras we used to — but now may not be the time to splurge. Allow for "fun" in your budget, but just make sure you are sticking to an amount that works for you.
4. Take a look at your emergency fund. The recommendation for an emergency fund — enough to carry you through an unexpected financial crisis — used to be three to six months' worth of essential expenses. The pandemic has taught us that six months to a year is probably a much safer amount. However, that can be challenging for people who are already struggling, so just go slow. Build your security net by putting some savings aside each month for unexpected expenses.
5. Make sure you have a will. There are lots of good reasons why you should have a will, but one of them is that it's less expensive for your family when they don't have to hire lawyers to determine where your possessions and assets should go. Having your affairs in order can bring you peace of mind now and help protect your family's finances in the future. To make things easier, Foresters members have access to LawAssure, a complimentary online document preparation service that enables them to create wills, powers of attorney and prepare healthcare directives.
6. Save for retirement. It is going to be very tempting to treat yourself by going on a buying spree after the stressful year and a half we've had, but focusing on your future will serve you better in the long run.
7. Protect your family. Life insurance and disability insurance are good ways to help protect the people who rely on you financially. Visit Foresters Financial for information on the different types of life insurance available. If you already have insurance, this is a good time to review your existing coverage to ensure that you still have the protection you and your family need.
8. Learn about managing your finances. Foresters recently launched a new series of smart-money courses on Lifelong Learning, a huge library of online courses exclusively for Foresters members. Members can learn more about everything from budgeting to taxes and retirement savings with on-demand classes that can be completed on your own time. Visit MyForesters.com for more information and to start learning now.
The following articles can help you save money, get good deals on things you need and help you navigate your way through challenging financial times:
SOURCES
1 https://www.forbes.com/advisor/banking/financial-spring-cleaning-post-pandemic-budget-tips/
420056 CAN/US (08/21)